The BrightEye™ line of compact converters from Ensemble Designs is a complete conversion solution for desktop, mobile, worship and broadcast. With over 50 different BrightEye units to choose from, you'll find the right unit for your video processing needs. These self-contained converters interface to a full range of video formats: high definition and standard definition SDI, 3 Gb/s, analog component, analog composite, and Y/C (S-Video). Analog audio and AES digital audio converters and embedders round out the BrightEye family. Additionally, with fiber optic I/O choices, BrightEye can take you farther than any ordinary converter.

Whether you're upconverting analog video to HD for a projection system, converting a camera feed to fiber in an arena, or feeding HD Tri-Level Sync to a non-linear editor, BrightEye is there to help. With their multi-format inputs and outputs, BrightEye converters are the flexible and cost-effective answer to any conversion requirement. BrightEye's easy configuration interface and signal status indicators make it simple to install and troubleshoot a system. Their compact size lets you put conversion right where it's needed: at a camera, non-linear editor, or projector.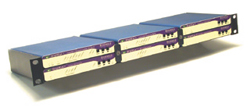 Up to six BrightEyes fit in 1RU
with the optional rack kit.
Analog, SD, HD, 3G and Optical choices.
5-year warranty




Easy Transition to Digital

Going HD is simple with BrightEye up and downconverters. And feeding HD Tri-Level Sync to a non-linear editor is easy with one of the BrightEye master sync pulse generators and test signal generators. Reliable and easy to install, these units make your transition to HD simple. And they're affordable too!

A Complete 3G Signal Chain

For facilities and manufacturers using 3 Gb/s video, BrightEye units can be combined to form a complete 3G signal chain. The BrightEye 57 test signal generator's 3G output can be distributed through the BrightEye 43 3G distribution amplifier or the BrightEye 46 and BrightEye 48 E/O 3G fiber optical transmitter/receiver set. For facilities using 3G the issue of monitoring the signal becomes a challenge. The BrightEye 72 is an HD/SD/3G digital to analog video converter with an HDMI confidence monitor out that provides a convenient way to monitor any type of digital video signal. A 3G video signal can be easily viewed via the HDMI output.

Powerful and Palm-sized

BrightEye may offer the world's smallest Time Base Corrector/Frame Synchronizer, but the features, specifications, and performance are far from tiny. All analog I/O is performed at 12 bits of resolution. Composite decoding incorporates sophisticated comb filters, and all internal processing meets or exceeds SMPTE television broadcast specifications. BrightEye converters provide superb video quality where fine detail and subtle shading are faithfully reproduced.
You can install 3 to 6 BrightEye converters with the optional rack mount kit. 6 single high units or 3 double high units (BrightEye 90 family) fit in just 1RU. A power supply needs to be ordered for each unit.

Fiber Optic Interfaces

When distances take you beyond the reach of ordinary copper cable, look to BrightEye's fiber optic interfaces. With both laser diode fiber drivers and photo diode receivers, BrightEye can handle both ends of a fiber optic link. Fully compliant with SMPTE 274M, 296M and 297M, BrightEye's optical interfaces operate at a wavelength of 1310 nm. Integral SC type connectors make it easy to connect into fiber infrastructure. BrightEye has been designed without internal fiber pigtails, so all optical converters support both multi and single mode fiber. BrightEye's fiber interconnect carries the same digital bitstream that makes up the electrical SDI interface. Data is carried by pulses of light rather than pulses of electricity. This rugged transmission system can carry serial digital signals with no loss or degradation for twenty kilometers or more on single mode fiber. With the use of a launch attenuator, multimode fiber is supported.
BrightEye makes it easy to take advantage of fiber optic technology. Choose from converters that include analog video I/O or units that interface directly to HD or SD SDI signals. Fiber interfaces are ideal for outdoor events and remote broadcasts. Fiber is not only a great solution for long distances, but since it is electrically non-conductive it also provides complete electrical isolation between the two connection points. Fiber connectivity completely eliminates concern for AC ground loops and hum. Optical transmission over fiber is also immune to radio frequency interference (RFI) and electromagnetic interference. Even nearby lightning strikes will not compromise the signal.

Control That's Easy-to-use

Front Panel Convenience
BrightEye devices have clearly labeled front panel controls, which allow you to choose output formats and other settings, quickly and easily without futzing with DIP switches.
BrightEye Mac and PC Software
For more advanced controls, you can use the included BrightEye Mac or PC software. Adjust video levels, output timing and mix audio channels are easy with the BrightEye control software. BrightEye Mac or PC connect using USB, and can control multiple BrightEye units with one computer. Additionally, you can use it to upgrade BrightEye units as new software versions become available. BrightEye Mac and PC software are included with each unit at no charge.